Our world has changed significantly in the past month. I believe we will be through this quicker than many think and recovery will happen. We will get back to a "new normal."  I understand why the current steps are being taken and I believe much of the country will be back "open" soon.
The reality is most are staying home right now. Now is the time to choose for ourselves how we will face this unknown and come out in the end better for the experience.  In my last post, I shared some tips on personal self-care and specific steps you can be taking right now!
I strongly believe you can't successfully take care of others if you aren't taking care of yourself. It's the oxygen mask on yourself first principle, your cup must be full in order to pour for others. So setting that plan for yourself is an important step in navigating this new situation.
The next important step is finding a way to make the most of this unprecedented time with your family. Schools across the country are issuing longer closures, some through the end of the school year. As more and more people work from home, parents are trying to figure out how to manage childcare, homeschool their kids, still get their work done and all without the option of group activities and excursions.
It's a lot to deal with and every family has a unique situation they are trying to figure out, but there are some things you can do now to make the most of this time and keep yourself and your family on track. 
Educate
The thought of homeschooling your children when this wasn't originally in the cards for you can be daunting. Luckily, the school systems are providing great resources, but that can be overwhelming to a parent attempting to work full time. Especially with younger kids who require more supervision.
Do you know a teacher?  BombBomb is an amazing video platform I use for my business. They are making the platform available FREE to teachers to help them teach remotely. Please share with a teacher. https://bombbomb.com/education/
Coincidentally, my family is ahead of the curve in this area as we began homeschooling our youngest Lucas, a sophomore, this January. I'll repeat this again and again – the best thing you can do is set a plan. Set up a plan for the week on Sunday and a specific daily schedule. Getting the kids involved in setting up their schedule helps create some ownership! When you have more time it can be easy to waste it. Especially when you are not used to working out of the home.
This article from NPR offers some high level suggestions as to how to approach homeschooling. 
One thing they touch on is to find and follow your child's passions. Depending on your child's age, they may be okay without the full time curriculum they'd get at school, instead, you can use this opportunity to help them find and hone something they're really excited about – maybe a project where they observe, study and draw the animals native to your area, or even learning how to cook and bake. Let them take the lead to make dinner or lunch! These activities might not feel like traditional lessons, but can subtly teach them math, science, research and more. 
Another important point is to give yourself a break. Do your best with what you have. Kids are resilient and by nature, curious. A few months of non-traditional education will not hurt them in the long run (as long as they're not spending the entire day playing video games or watching movies). 
Make Time For Fun!
While yes, the stresses of this situation are many – it is crucial that you don't pass those on to your children. Younger children aren't going to understand why they can't go to school, the park or participate in their favorite activity. And while older children and young teens get the situation, they still are kids and as parents we should do the best we can to shield them from the panic that surrounds us. Limit their consumption of the news – and yours too! Happy stories rarely make the news crawl, and we need to be taking in as much positivity as we can muster!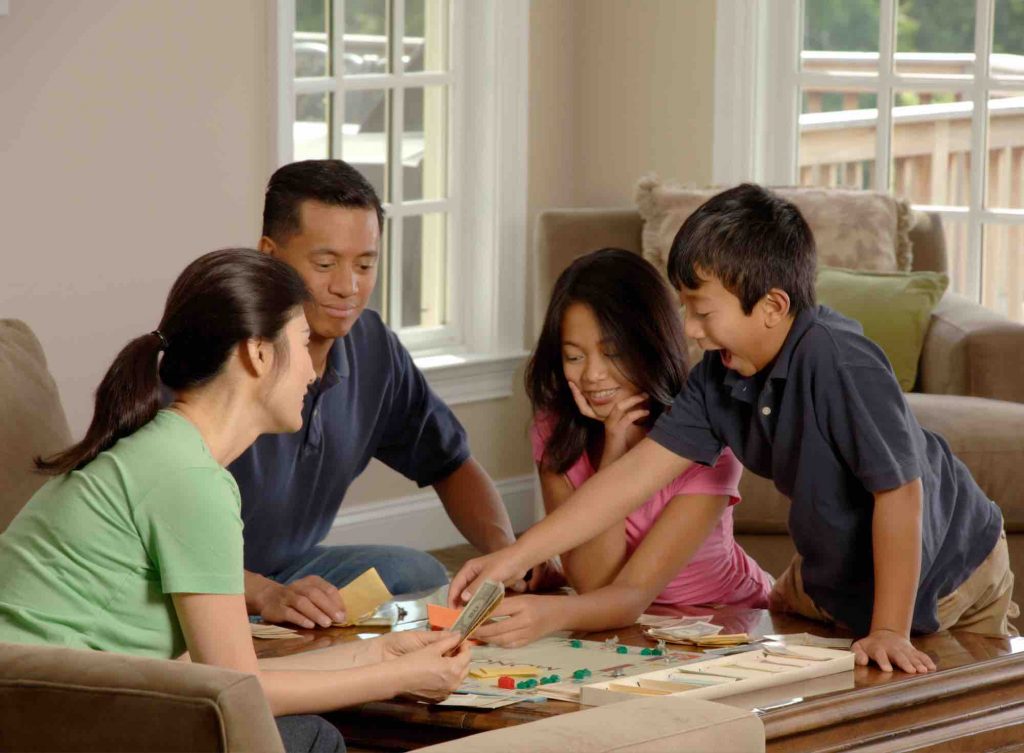 So that being said, ensure your plan has FUN as a major component. Make a family bucket list for the next few months, taking the time to sit down together and brainstorm creative things you can do together.
Go old school with it – play with bowls of water and food coloring, get some chalk and draw on the driveway. Going through old family photos and putting together scrapbooks or a movie is a perfect way to reminisce and be creative. Pull out those dusty board games, learn card tricks, there are a million lists out there of family-friendly activities, so do some googling and get started! Our new favorite game is CATCH PHRASE. I literally cried from laughing so hard the last time we played it.
Make Fitness & Health a Family Priority
This can be part of the fun too! The best way to fight coronavirus cabin fever is to get outside. Luckily we're moving into spring and the weather is improving each day. Take hikes, walks – be in nature. Play yard games. Explore the areas around you with scavenger hunts. 
Get your kids involved in selecting new healthy recipes, making the grocery list, preparing and cooking your meals. Bring back the family mealtime. Without the normal rush from school to activities all over town, you can all actually sit together and enjoy your meals on a regular basis.
Tackle Those Big Projects
Bring the whole family into projects you've been putting off. Got a fence that needs painting? Boxes in storage that need to be cleaned out? We took Saturday to clean out the garage, declutter and donate unneeded items. The basement storage area is next! Coming together as a family and accomplishing something is an excellent way to bond.
With young kids, simple cleaning tasks that may seem tedious to you, can become an adventure. A young mom I know started having her three-year-old help clean her car. A task easily put off suddenly became one of their favorite activities as he helped wipe down the seats, vacuum out the truck and put all his toys into the seat organizer.
Turn to Gratitude
Finally, be grateful for this time, for what you have. While it can be hard to balance work, life and kids without help from schools and other people, think of how lucky you are to have people in your life to care for. To be together and be able to learn and grow as a family. We learn a lot in a crisis. Use this time to reprioritize your family. To strengthen those bonds and connect on a deeper level than before.