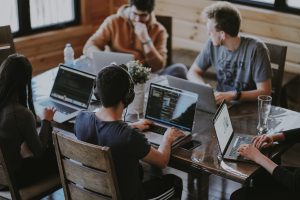 Engage employees in the first and last 5 minutes of the day:
In-house. Start with a huddle.
Remote workers. Touch base via text/email/call.
Salespeople. Talk activities and goals.
If you look at the first and last five minutes of each day as a time to hustle and bustle or to just sip coffee and ease into it, you're missing out on a valuable strategy for productivity and employee engagement.
The beginning and end of your workday are some of the most important moments for getting the right mindset and focusing on specific, achievable goals.
Here's how to structure these crucial minutes.
Engagement in the first 5 minutes of the day
If you're a leader at any level or you're the CEO, the first five minutes can set the tone for your whole day. 
Employee engagement is important for both the people who work in the office and for those who are remote.
Here's what that should look like.
1. In-office team
Have you ever thought about doing a huddle? What if you could set the tone for the day more effectively? 
This video shows you how it's done.
Your morning touchpoint should be simple and quick. 
A huddle is stand-up meeting that is engaging, has a clear agenda and is high-energy. 
It is not a time for problem solving. 
You want the team to feel motivated to go out and do their best, whatever their specific roles may be.
Discuss questions like:
What's the key outcomes for today?
What business wins did we experience yesterday?
What personal wins did the team experience? 
What specific things are we focusing on today?
What great customer sales or service stories can you share? 
What daily quote will resonate with everyone? 
2. Remote employee engagement
Never leave your remote team members feeling like they're alone on a deserted island.

Fitting in a quick Zoom meeting or a con call is ideal, but that's not always possible. At least engage them at the beginning of the day with a text or an email.
Your remote workers are particularly susceptible to falling into a downward spiral of disengagement and isolation from the rest of your team. That's because second only to communications struggles, loneliness is the biggest struggle 
remote workers report
 year in and year out. Make it a point to check-in with your team on a regular basis about things other than just the project they're working on.
– Create a Slack channel for loves, celebrations, and weekend updates.
– Allow time before and after the "real" meeting for small talk. Let those moments flow and don't view it as wasted time.
– Install a Slackbot to ask, "What'd you do this weekend?" every Monday morning.
– Create a Water Cooler Zoom room and encourage employees to stop by on breaks.
– Assume video on by default for meetings. Faces are friendly!
3. Specifics for sales
The morning conversation among the sales staff may look a bit different than the other meetings.
You'll be discussing outcomes, goals and accomplishing tasks that make a difference.
It's all about building positive momentum. Share wins and breakthroughs. 
Encourage the idea that you're in a busywork-free zone and use positive speech that gets the sales team fired up to do their best.
Employee engagement in the last 5 minutes of the day
How you wrap up a day is just as important as how you start it.
The process will look different, though, depending on whether you're in a leadership role or an employee.
Here's what you need to know about using the last five minutes of the day to put a nice bow on all that you've accomplished.
1. From a leader's perspective
As a leader, your role as morale-booster is critical.
Catch people doing something well and tell them about it.
As a group, you can talk about what went well that day. Ask people to share what they're proud of or what they considered to be a win.
It's also important to find out what was a struggle or who needs help with a problem or an overwhelming task.
Remember, there's a big difference between asking and telling.
Avoid sending your team members home discouraged – strive to always end the day on a positive note.
Side Note:
You can encourage people face-to-face – or through a text or a handwritten card.
Dr. Gerald Graham did a study at Wichita State and found that 76% of employees say they have NEVER received a thank you card. 
Your team probably needs encouraged! Make it a goal to try and write at least one note like this every day. 
The card can say something as simple as this: "I noticed you closed the XYZ sale today. Congratulations on your perseverance. Keep up the good work! I am proud of you! " 
Promoting this type of employee engagement will go a long way. 
2. From an employee perspective
If you're a member of the team, there are certain questions you should ask yourself at the end of every day. These include:
What outcomes happened today?
What did I learn today? 
What was frustrating today? 
What did you get done? (Then, give yourself a big high five!) Focus on what you DID accomplish.
Set yourself up for a win the next day by creating a clear plan of action before you go home.
3. For the sales or customer service teams
While the above questions apply to you, there are some extras you should be thinking about.
Did you get a sale or a referral? Did a referral turn into a sale? How can you uniquely reward them to try to ensure they do it again? 
How can you drive people to social media to say positive things about their experience with you? Encourage them to take pictures, post videos and tell their story. 
Have a customer that was less than satisfied? If you see a post like this on social media, engage them immediately in how you can help solve the issue. Send a note of apology to try and smooth things over.
Be intentional about sending out one card/note a day to a customer. 
Great beginnings and endings
No matter what your role in an organization is, you can leverage the first and last five minutes of each day to focus on employee engagement. 
Your team will become more efficient, productive, motivated and to have the right attitude. 
The Ritz-Carlton calls their "huddle" the daily line-up. It is done at the corporate office and at each of their properties around the world. That morning get together sets the tone for the day. It's no coincidence that they're known for their exceptionally consistent customer service. 
Start and end each day with clear goals in mind and a positive attitude. It will make all the difference in how successful your whole team can be.