You've got a big job to do.
Whether you're a seasoned pro or you drew the short straw, a lot is riding on your meeting-planner shoulders.
In fact, you could go so far as to say that an event is only as successful as the meeting planner behind it.
One of the most important parts of your job is choosing a conference theme. This may be your 30th anniversary and you really need a fresh idea. Or it might be your first time handling a large event and choosing a theme.
Use these tips below to choose a conference theme that will blow your audience away.
1. Less is more
Think "simplicity" when choosing a theme and planning the event in general.
As a meeting planner, it's frustrating when your leadership pushes you to stuff too much information into one event. I have seen this consistently over the past 24 years, especially during the last few weeks of planning.
Cramming more content into every minute of the event does a disservice to your audience and the final outcome. You want to provide them with enough time to network and learn from each other, too.
Having SHORTER concise sessions also does something magical. Concise sessions will force the presenters to do extra preparation because they have less time. They must evaluate what is REALLY important to include and cut out the fluff!
Here are some ways to make sure your attendees are getting the most from the experience:
Keep the break-out sessions brief: 45 minutes is better than an hour.
Pay close attention to how the room is set up.

Too many chairs is bad.
Chairs that are too close is also bad (keep 6" between each chair if possible).
A middle aisle is bad.
A stage that is too high is not going to be used.

Plan for lengthier breaks, at least 20 minutes. People will usually take longer anyway.
Don't go longer than 60 minuteswithout changing the energy of the audience. You can have them stand up and stretch or stand up and answer a question in groups of 4 to shift gears.
2. Keep it relevant
A good conference theme will be evident throughout every aspect of an event. What is happening in your industry or with your competition? What kind of year did you have?
A great theme can be a rally cry for the year and reinforce a key message your team needs to live each day.
The theme can be integrated into even the smallest details, such as invitations, brochures, keynotes, breakout sessions, SWAG, name tags (make the first names BIGGER), signs and digital marketing. Have each speaker and breakout session tie into the theme with their message.
As you're choosing a theme, be conscious of its ability to be integrated into each of these areas.
3. Choose a conference theme that fits your audience
This may seem like Meeting Planner 101, but reminders never hurt.
Back to the basics: The first step is to identify your target audience.
Use these questions to help you zero in on who you really want to reach:
Who is attending the conference?
Why are they coming? Was it earned or is it mandatory?
What was last year's theme? Can you build on that?
Have a contest and get ideas from the people attending! Advertise a great prize.
Are you celebrating a great year or do you need to challenge your team in some way?
You can also use the list above to brainstorm other possibilities and come up with your top three themes. Then, share it with other key leaders to get their input. Finally, select your theme based on that information.
4. Have a clear call-to-action
Many events fizzle out at the end. But there are steps you can take to send the audience out the door committed to taking action on something specific.
I have seen something simple as a Commitment Wallwork well. Print your company's logo and theme on a large sheet that hangs on a wall. The size will vary based on the size of the audience. Have each person write their commitment – something specific they are committing to and WHY – on a sticky note and then put it on the wall.
Another way to end with a commitment is to print cards with the meeting theme and stamped envelopes ready to go. Give everyone a card and envelope at the end of the event. Each person will write themselves a card with their commitment (based on the theme if it fits) of what they are going to accomplish this year and WHY. You can also have them choose an accountability buddy to check in with them every month.
Instead of making a commitment, you can provide a Decision Card. I believe in the power of making one decision. Not a plan to do something. Because a single "decision" can be a game-changer. At the end of my presentation, I hand out a decision cardand everyone writes down a specific goal or decision on the card and WHY. They add the date to it and then add it as a calendar entry in their phones for one week in the future. They set the event to repeat weekly so they get a reminder to encourage them to live it.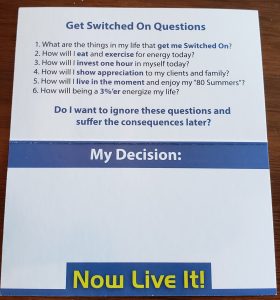 5. Who will be your energy source?
The speaker you choose to reinforce your theme and be THE energy source is every bit as important as the theme itself – maybe even more so. The most important positions are the opener and the closer.
As you're considering different themes, think about how your keynote speaker can use it to energize the audience – because the speaker sets the tone at the beginning of the event and has the important job of leaving the attendees with a lasting memory.
But the best meeting planners put all of these elements together to create an event that leaves the attendees with actionable, life-changing information that will stick with them long after the conference has ended.
What are your biggest challenges with choosing a conference theme?