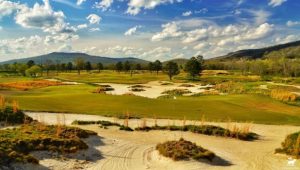 I am sure you have had adventures you have wanted to undertake but for many reasons never did. Most of us have had our lives and normal routines altered because of Covid. It has been drastic for me and I needed to do something OUT OF THE HOUSE! Sweetens Cove Golf Course is a 9 hole masterpiece and is ranked by some as the #1 course in Tennessee. I live 2 hours away and have wanted to go for some time. First time I called in May I was told they were sold out for 2 months! Since my schedule right now is still oddly flexible I called on Tuesday. I was told they were booked until November BUT they had an event cancel and had room the next day! I tried to get someone to join me but was out of luck, so I booked a time for me! Our daughter is now back in school at UT – Chattanooga so I made plans to bring her a few items for her new apartment, have dinner and stay with her. Win-win!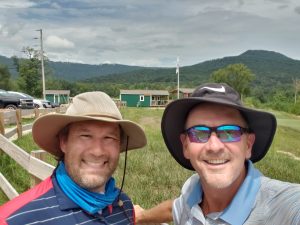 The course is an amazing piece of land in a valley. As you arrive into the gravel parking lot you can see the course in the valley before you. It was a foggy/muggy morning with a dripping rain. I was the 3rd to arrive and met others who were typically from at least 2 hours away. I was told there is often license plates from at least 5 states every day. Back in 2017 there was an article in the NY Times about the course. TN icon Peyton Manning and Andy Roddick invested in the course, PGA tours player came and the social media buzz increased.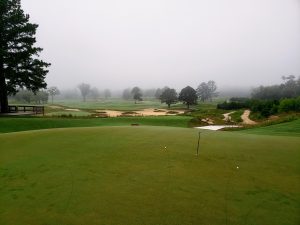 The "clubhouse" is a small shack from Home Depot and they added bathrooms only a few years ago. I try to walk when possible but with 36 holes ahead of me on a 90 degree day we got a golf cart. Carts had not been cleaned out in a long time but not a big deal.  The first thing I noticed is the practice putting green…..elephants could be buried there. Crazy elevations and undulations. There is no range to hit balls so we practiced putting on the very dewey green. I joined Michael (picture with me) and Troy and we were the first group off. The course is is perfect shape – literally not a weed! The first hole is a straight away par 5 and not long from the white tees. The green is so massive it that with the 2 pins on the green it looked like two separate greens because of the massive bunkers in front. The first time through it was a little confusing where the holes ran or how to hit approach shots to the massive greens so we played the white (shorter) tees first.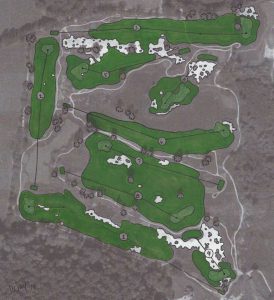 Fairways are wide and a driver is rarely needed off the tee. Perhaps the most visually pleasing feature are the bunkers all over the course. They did an amazing job building them around the greens with wood and rocks. I was only in one fairway bunker all day. The biggest adjustment is to remember to play to the right flag. This is only a 9 hole course and when you make the turn you play to the other flag. It can get confusing…especially after 27 or 36 or 45 holes and a few adult beverages. Since so many tee times were open we never waited all day! It was the perfect day to go.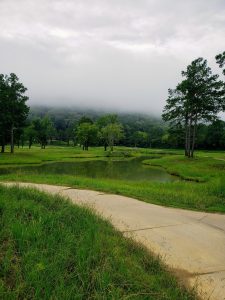 There are blue flags and a white/blue flag. Greens are so massive I think they could easily have 3 flags the greens are so big – maybe go RED/WHITE/BLUE. When you play 36 – 54 holes in a day, the more flag options would be fun.
I played the white tees first, then the blue and then the "tips" twice. I am a 4.4 hdcp and was 6 over for the 36 holes and hit 24/36 GIR. As Jack Nicklaus says, "Golf is more enjoyable when you play well." That is so true! If you can keep the ball in play off the tee, the key is hitting your approach shots to the right section of the green. If not, you can have some insane putts up and over and around the bend unlike any putts you have every experience.  There are many false fronts you need to carry and many pins deep in the green you can not go over.
There is not food at all which is odd when most of the players are on an all day pass. They could easily get a grill and do burgers/hot dogs for lunch. Simply get a local senior/retires golfer and trade them for free golf to do that from 11-2 might work well. Easier to bring your own cooler and ice. They do provide coolers with water bottles on 1 – 4 and 7 which is nice. Limited beer available. No where nice to go close by so best to BRING your own lunch and snacks with you! They did build a nice covered area overlooking the course to relax and I am sure they use it for group events.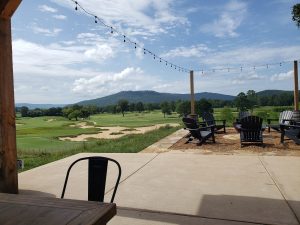 I will be back. I had waited because I could never get anyone to go with me – SCREW THAT – just go! There are plenty of people to play with. I am really skeptical that when they say there are "booked" that that is the case. Since when you make a tee time they DO NOT collect any payment AND many tee times are booked weeks or months in advance I am guessing the no show factor must be 10-20%. They could collect at least $10 – 30 – 50 to make the tee time. Just like many restaurants are taking a booking fee when you place the reservation to increase the chances you actually show up.
Well if you made it this far you just might be a golfer.  What adventure have not not taken advantage of for similar reasons? We will never get this summer back! This whole Covid disaster has changed the way most of us live and work. What is the opportunity you need to take advantage of? What have you taken advantage of already with your family? Summer is over September 21 – plan an adventure now – carpe diem!